The Amazing Competency Fortress
Busting Open is the key to the power of my system.
It sky-rockets the quality of your answers.
But it takes an awful long time to do this PROPERLY.
You have to hunt for golden gems from employer websites, Self-Help books, Business articles, TED Talks, YouTube and a bunch of good career websites.
If you were to do this yourself for 8 Competencies, for example
(assuming you are SUPER-EFFICIENT and don't end up procrastinating on YouTube after 15 mins..)
It would take you 35mins per competency. That is if you do it PROPERLY as outlined above!
That then works out to more than 4.5hrs!!
Which in real life is actually like 6-7 hours
(accounting for FB, short attention span and other distractions)
Save yourself the agony.
What you get from this eBook:
31 Competencies professionally busted open for you by me

Each competency is comprehensively explained and defined

Each competency comes with all the key buzzwords and phrases that you need

Mention of professional Problem Solving and Analytical Techniques which are sure to impress your interviewer!

£9.99 for limited time only
This eBook took me over 35 hours worth of research
£9.99 for limited time only
Compiled competencies from the Top 100 Graduate Employers
Sifted through all the competencies to sort them in order of popularity
Busted each competency open by researching books, business articles, TED talks, online resources and employer websites
Here is an example of how each competency is Busted Open
(cut out straight from the eBook):

Communication
Teamwork
Decision Making
Adaptability
Planning and Organising
Problem Solving
Leadership
Initiative
Customer Focus
Delivering
Accountability
Achieving Goals
Agility
Analytical Ability
Business Acumen
Collaboration
Confidence
Creativity
Dedication
Drive
Efficient Delivery
Global Outlook
Integrity
Influencing Ability
Respect
Innovation
Judgement
Building Relationships
Result Focus
Seeing the Big Picture
Continual Improvement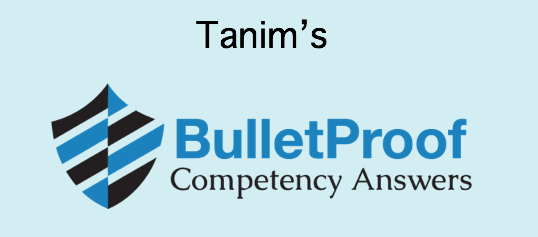 I am now including a *SPECIAL BONUS*
When you purchase the Amazing Competency Fortress you will also get access to 5 of my Bullet Proof Answers!
Yes, 5 of the answers I have been using in my own (many) interviews!
What else could you possible want!
#MegaBundle
#MegaGenerous